Final resting place:
St. Paul's Church, Barton, Newport, Isle of Wight, United Kingdom
Professor John Milne, D.Sc. F.R.S., F.G.S.
Hon. Fellow of King's College, London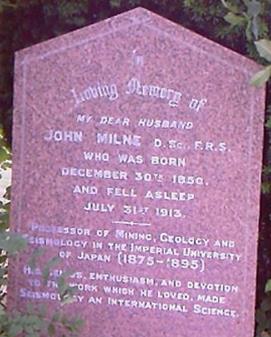 Below - John Milne's Grave July 2017
(Click images for high resolution pictures)
The inscription reads:

In
Loving Memory of
MY DEAR HUSBAND
JOHN MILNE D.Sc., F.R.S.
WHO WAS BORN
DECEMBER 30th 1850
AND FELL ASLEEP
JULY 31st 1913
---
Professor of Mining, Geology and
Seismology in The Imperial University
of Japan (1875-1895)
HIS GENIUS, ENTHUSIASM AND DEVOTION
TO THE WORK WHICH HE LOVED, MADE
SEISMOLOGY AN INTERNATIONAL SCIENCE.